DWS Staff

Posts: 9243
Joined: Tue Sep 20, 2016 9:39 pm
---
DWS Staff

Posts: 9243
Joined: Tue Sep 20, 2016 9:39 pm
---
DWS Staff

Posts: 9243
Joined: Tue Sep 20, 2016 9:39 pm
#PacificFleet's "Admiral Panteleyev" (Udaloy-class destroyer) and the tanker "Boris Butoma" have docked in Cambodia
https://t.co/jDXmKyLbR1
---
DWS Staff

Posts: 9243
Joined: Tue Sep 20, 2016 9:39 pm
Russian Navy multi-purpose salvage vessel Spasatel Demidov|Спасатель Демидов (MMSI:273387420) entered the Mediterranean this AM. #ВМФ
https://t.co/V1LX9JIYcW
---
DWS Staff

Posts: 9243
Joined: Tue Sep 20, 2016 9:39 pm
Russia|n Navy RV #Yantar|#Янтарь (MMSI 273546520) arriving in Port Victoria, SC. Following 2017 path of Severomorsk|Северомо́рск? #ВМФ
https://t.co/jvzbvC0rTt
Russia|n Navy RV #Yantar|#Янтарь (MMSI 273546520) heading back toward Africa. Check that wiggle wiggle wiggle before #PortVictoria #ВМФ
https://t.co/75uuYP2oKk
Russia|n Navy Project 22010 #Yantar|#Янтарь (MMSI 273546520) turned South at The Horn of Africa; headed to Seychelles? South Africa? #ВМФ
https://t.co/c5O2zmBbhN
Russia|n Navy RV #Yantar|#Янтарь (MMSI 273546520) heading towards Madagascar(?), deviating a little from usual shipping lanes. #ВМФ
https://t.co/ndnjXcLAr9
Russia|n Navy RV #Yantar|#Янтарь (MMSI 273546520) departed Port Louis, #Mauritius heading for Cape Town, #SouthAfrica. < 12KN #ВМФ
https://t.co/3o2tvcvwBU
Hey, that's funny; there's a telecom cable that was laid in 1999 that goes from #Mauritius to #SouthAfrica roughly along that route. #Yantar
https://t.co/F6LrApLnBQ
Or maybe SAFE (the undersea cable) was commissioned in 2002; IDK. Either way, Yantar has slowed below 12KN, & it doesn't seem b/c of weather
https://t.co/928uOTiLnG
To be fair, the #Yantar is also following a well used shipping route, which is along the same telecom cable; this isn't a smoking gun.
https://t.co/wYhK6k85KI
Russia|n Navy RV #Yantar|#Янтарь (MMSI 273546520) ceased broadcasting AIS-S 2017-11-06 11:37Z, at (-28.7877102, 34.4298286), doing 11.6KN, bearing 262°, on their way to Cape Town, South Africa, with 6 days to spare prior to their ETA. #ВМФ
#BigGap
https://t.co/SoJIuTNPVG
---
Russian Govenment chartered, Russia flag RoRo Alexandr Tkachenko transits Bosphorus en route to #Tartus #Syria carrying Zil, KamAZ & Ural trucks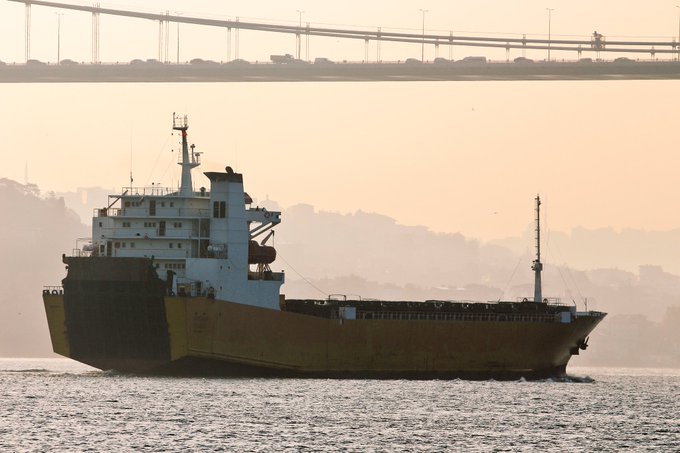 https://twitter.com/YorukIsik/status/92 ... 14816?s=17
" man fears time, but time fears the pyramids "
---
DWS Staff

Posts: 9243
Joined: Tue Sep 20, 2016 9:39 pm
#ВМФ Project 861/6, Polish built Moma class AGI intelligence vessel Ekwator returned from 101days Mediterranean deployment & transited BlackSea-bound Bosphorus
T
https://t.co/shxjzhc7Ov
---
DWS Staff

Posts: 9243
Joined: Tue Sep 20, 2016 9:39 pm
Russia|n Navy RV #Yantar|#Янтарь (MMSI 273546520) has had its AIS transponder off for 9 days (...is that lipstick on your collar? Where have you been?) They are arriving in Cape Town, South Africa, very shortly. #ВМФ
#BigGap
https://t.co/iXszwiqjOf
Russia|n Navy RV #Yantar|#Янтарь (MMSI 273546520) ceased broadcasting AIS-S 2017-11-06 11:37Z, at (-28.7877102, 34.4298286), doing 11.6KN, bearing 262°, on their way to Cape Town, South Africa, with 6 days to spare prior to their ETA. #ВМФ
#BigGap
https://t.co/SoJIuTNPVG
Russia|n Navy RV #Yantar|#Янтарь (MMSI 273546520) is docked in the port of Cape Town. Not sure if there are many #shipspotters in Cape Town, and if any would be interested. Any pictures of Yantar? They're parked in a great spot. #ВМФ #shipspotter #SouthAfrica #CapeTown
https://t.co/WEkTl6kg1O
---
DWS Staff

Posts: 9243
Joined: Tue Sep 20, 2016 9:39 pm
#ВМФ Project 862/II Yug class hydrographic survey vessel Donuzlav redeployed to Mediterranean after 262days & transited Med-bound Bosphorus 13:30Z
T
https://t.co/8IU158n3wG
---
DWS Staff

Posts: 9243
Joined: Tue Sep 20, 2016 9:39 pm
#ВМФ #ЧФ
#Russian #Navy landing ship 'Yamal' [project 775/II/Ropucha II Class] returned to #Sevastopol after
#Syria deployment. November 18, 2017
https://t.co/xeDgAC79wb
---